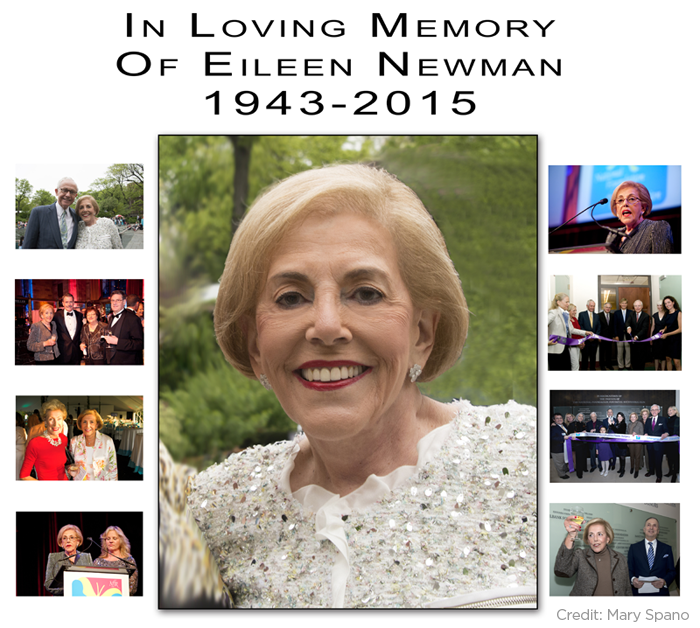 Eileen was a loyal and lifelong friend to many. She enjoyed competitive bridge, reading on the beach, playing with her grandchildren, and traveling the world. Eileen was an extraordinarily devoted wife and mother, and a doting grandmother. She was happily married for 45 years to her warm and gregarious late husband Arthur and is survived by her children, Sondra, Allison, and David; her son-in-law, Cengiz; her daughter-in-law, Stephanie; and her eight grandchildren: Leah, Alex, Sarah, Oliver, Zeki, Ella, Alara, and Adelia. Eileen balanced raising children with a career as a teacher and reading specialist. Her generosity of spirit and desire to help people in need extended and evolved throughout her life. She served for 14 years on the board of the National Foundation for Facial Reconstruction (myFace), the last seven of which as president. Eileen recently joined the board of trustees of NYU Langone Medical Center.

myFace transforms the lives of people with facial disfigurement by funding unrivaled, comprehensive care at the Institute of Reconstructive Plastic Surgery at NYU Langone Medical Center and provides their families with a social lifeline and financial resources to help them in their journey.
Watch our compelling video about the mission of myFace and our amazing patients.
Join the myFace movement
Save the date for this year's gala at the Intrepid Museum on Thursday, May 14th 2015! Please join us for our annual Family Gala, including a Family Reception, Donor Dinner, Private V.I.P tours of the Space Shuttle Enterprise and the Hubble Exhibit, Dancing Under the Stars on the Flight Deck, Family Photography Exhibit, Silent Auction, […]
See more
By: Eloise Southard Check our Eloise's Blog Here! So I finally did it… I finally read Wonder. I just sat down on Sunday morning while Landon nuzzled next to me on the couch and read it. For years now, when folks hear about Landon's syndrome, most people offer "have you heard about the book Wonder?!". […]
See more