Richard Lee Norris: Face-transplant recipient meets dead donor's sister.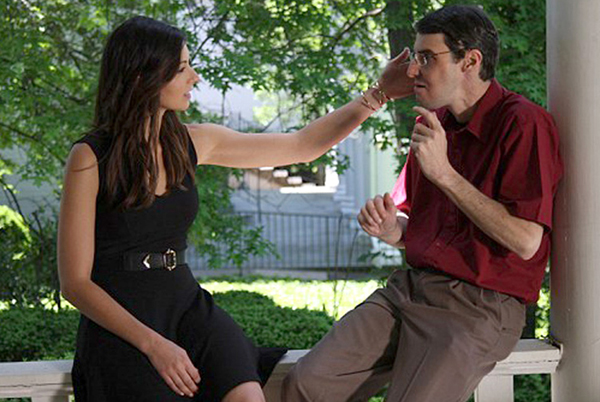 Rebekah Aversano meets Richard Norris for the first time. Photo: 60 Minutes Australia
myFace is honored to provide critical psychosocial services to Richard Lee Norris on an ongoing basis including speech therapy, nutritional support and psychological counseling. myFace additionally provides airline transportation and housing to Richard when he travels to NYC for his medical appointments. He has become an integral member of the myFace family and mentors our younger patients in need of support. myFace, the not for profit organization that funds the Institute of Reconstructive Plastic Surgery (IRPS) at NYU Langone Medical Center, will continue to support Dr. Rodriguez, Richard and other facial transplant patients with their psychosocial needs and beyond.

Thanks to the incredible vision and generosity of the late Arthur and Eileen Newman and the Newman Family Foundation, myFace created the Newman Family Support Center in 2000 at the IRPS. The Center offers vital psychosocial support to patients with facial disfigurement and their families.
click here to see the latest article on Richard. | Click here to watch the latest "60 Minutes Australia" feature on Richard.

myFace exists to transform patients' lives by funding medical procedures and research performed at the Institute of Reconstructive Plastic Surgery at NYU Langone Medical Center to repair facial disfigurement, and by providing social, psychological and financial support to families in need.
Watch our compelling video about the mission of myFace and our amazing patients.
Join the myFace movement
myFace celebrated its 4th Annual Races for Faces on Sunday, July 26th and WE DID IT! We raised over 150,000!!! A huge thank you to all of our walkers, ‪myFace‬ stars, volunteers, and donating vendors for all of your help into EXCEEDING our goal. Words cannot express our gratitude for all for your support!
See more
I have a quick reflection about fatherhood and love that I've been meaning to write about for awhile. As a father one of the biggest things I learned about parenthood from my dad was to love and sacrifice. For different people those things manifest in an infinite number of ways. As Tene became more and […]
See more